In 1987, the artist's cousin, author Christopher T. Buckley,
commissioned him to paint a wrap around jungle scene 'a la Rousseau'.
Since then Claude Buckley has painted 28 murals in public spaces and
private homes in the United States and Europe.
MURALS IN PUBLIC SPACES
(Click on the images to view the Galleries)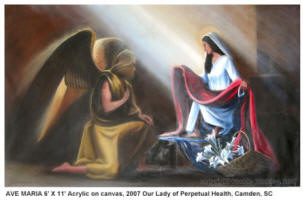 "AVE MARIA"
6' x 11', 2005, acrylic on canvas
Our Lady of Perpetual Health,
Catholic Church, Camden, SC.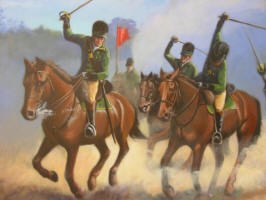 "THE BATTLE OF CAMDEN"
12' x 45', 2005, acrylic on canvas Robert Mills Courthouse,
Kershaw County Chamber of Commerce, SC.
"ROOST OF THE WHITE IBIS"
6'x160', acrylic on canvas, 1999
Milliken and Company Information Center,
Spartanburg, SC.
WATEREE LAKE
In Memory of Dr. David Joseph
Joseph Dental Associates, Camden, SC
"CHARLESTOWN, 1881"
8' x 10', acrylic on canvas, 1995
Law Office Boardroom of Ogletree, Nash,
Deakins, Smoak and Stewart , Charleston, SC.
"COLONIAL LIFE"
8' x 22', acrylic on canvas, 1993
Pine Tree Elementary School, Camden, SC.
Commissions Are Welcomed
For all inquiries, please write to: E-mail info@claudebuckley.com
VIEW MORE OF THE ARTIST'S WORK BY FOLLOWING THESE LINKS:

HOME GALLERIES PORTRAITS MURALS PROFILE F.A.Q's. PURCHASES BOOKS E-MAIL
Claude Buckley PO Box 1421,Camden, SC 29020
Copyright © 2007 by Claude Buckley Paintings. All rights reserved.
Revised: 04/23/09 20:20:58 -0400.