Public Murals by Claude Buckley
THE BATTLE OF CAMDEN
The Robert Mills Courthouse
Kershaw County Chamber of Commerce, Camden, SC
The mural is housed in the rotunda of the
Robert Mills Courthouse, Camden, SC.
Robert Mills, a native of Camden, is the United State's
first American trained architect and is most famous
for his Washington Monument, in Washington, DC.
This mural commemorates the moment of glory of Baron
DeKalb, as he is gunned down by the British,
under the command of General Cornwallis,
during the Battle of Camden.
General Horatio Gates abandoned his
army on the battle field, and fled from the carnage.
The Baron perished from his many wounds three days after
the battle. General Cornwallis gave him a full military
burial in honor of DeKalb's valor.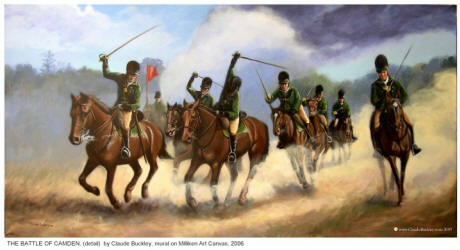 The dreaded British Legion charged into the fray of the battle.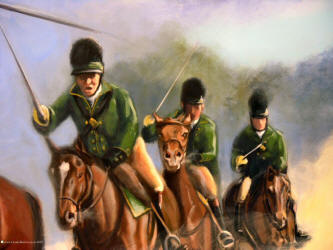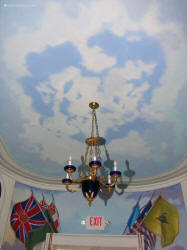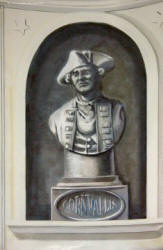 Commissions Are Welcomed
For all inquiries, please write to: E-mail info@claudebuckley.com
VIEW MORE OF THE ARTIST'S WORK BY FOLLOWING THESE LINKS:
(Click on the images to view the Galleries)

HOME GALLERIES PORTRAITS MURALS PROFILE F.A.Q's. PURCHASES BOOKS E-MAIL
Claude Buckley PO Box 1421,Camden, SC 29020
Copyright © 2007 by Claude Buckley Paintings. All rights reserved.
Revised: 03/15/09 13:13:00 -0500.