HOME GALLERIES PORTRAITS MURALS PROFILE F.A.Q's. PURCHASES BOOKS E-MAIL
Private Murals by Claude Buckley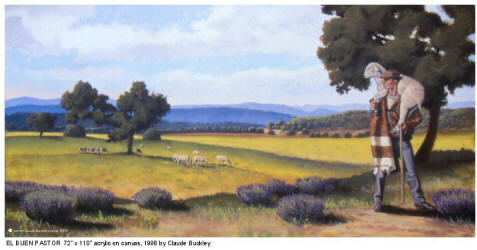 EL BUEN PASTOR
6' x 10' acrylic on canvas, 1998
Private Collection, Columbia, SC
THE BACCHANTS
8' x 10' acrylic on canvas, 2006 Stairwell
Mr. and Mrs. David Cutler, Camden, SC
THE FALCON HUNTERS
1987, Fresco Secco on Lime Wall. 4m x16m
Marques de Viesca de la Sierra Collection
Almazara, Finca El Santo, Aldea del Fresno, Communidad de Madrid, Spain.
This large mural depicts an eagle hunt in the Finca.
The models are members of the owners family.
It includes fourteen species of wild life and views of the estate.
It is housed in the oil mill of Sixteenth Century Monastery, El Santo.
The Monastery was built for Phillip the Second, by Juan Herrera,
the architect of the Monastery of el Escorial.
The Mill is built on top of a thirteenth century wine cellar.
The robust wine of El Santo was famous for centuries
and was mentioned by such famous writers as Lope de Vega..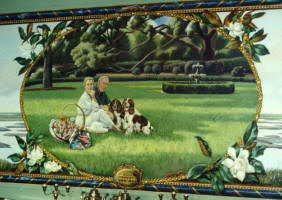 BREAKFAST ON THE GRASS
1997, oil on canvas, Dining room. 6' x 11'
Mr. and Mrs. James L. Ferguson Collection
Battle of Seccessionvillle headquarters Dining Room, Charleston, SC.

(Click on the images to view the Galleries)
Battle of Camden
Commissions Are Welcomed
For all inquiries, please write to: E-mail info@claudebuckley.com
VIEW MORE OF THE ARTIST'S WORK BY FOLLOWING THESE LINKS:

HOME GALLERIES PORTRAITS MURALS PROFILE F.A.Q's. PURCHASES BOOKS E-MAIL
Claude Buckley PO Box 1421,Camden, SC 29020
Copyright © 2007 by Claude Buckley Paintings. All rights reserved.
Revised: 03/15/09 21:11:01 -0500.